At Solsnu 2018 we took the stage at Rock In for the first time. We've never felt so welcome before an audience as we did that night, and now we're back! On October 30th we release the debut album that we've been working on since before we had a hair on our chins, until we were all graying at the temples. It's been a journey, and now we can finally share the music with the world!
Elvarhøi plays hard hitting folk metal with exclusively Norwegian lyrics, and the debut album is a journey through doubt, determi­nation, dispos­ession and ultimately death and defeat.
The title "Dansen låter fra graven åter"is a line from one of the songs in which the fiddler must die after having caused too much senseless revelry. And when the tune keeps playing from beyond the grave, that's when the party finally kicks into the magical sixth gear!
Buckle your bullet belt and dancing shoes, it's party time!
-- Support & tickets TBA --
Fifteen years in the making, Elvarhøi's debut album is a journey through doubt, determi­nation, dispos­ession and ultimately death and defeat. Our hard hitting electrified folk saga will be released on CD, as well all as digital platforms on the 30th of October!
Eight epic tracks of folk-rocking glee to keep you entertained and, and we believe, emotion­ally gratified for long after the record has stopped spinning.
The title «Dansen låter fra graven åter» is a line from one of the songs in which the fiddler must die after having caused too much senseless revelry. And when the tune keeps playing from beyond the grave, that's when the party finally kicks into the magical sixth gear!
Magnus Wandås, lyrical mastermind of the band, comments on the title:
«The title translates to something like 'The dance continues from beyond the grave.' A few years ago, we would have told you that this album, or any album, would never survive our work process. But we're far too stubborn to quit, no matter how monumental the task is. And since we wholeheartedly believe in the strength of this material, we couldn't ever let it go. This attitude could easily have been our downfall, but it must have proved to be a strength.»
«Why? Because here we are, back from the grave and stronger than ever for having gone through the ordeal.»
The sound of the album is a joyous mix between the distinct timbre of Norwegian folk music and 70s rock and prog, dressed over the bones of Heavy Metal. The songs are varied, from triumphant metal anthems, to soft and lush "folk singer"-esque ballads. The bands songwriter and bassist, Christopher Rakkestad, explains:
«Elvarhøi started in 2005 as a band singing medieval ballads, with a focus on paying homage to the cultural heritage of the romantic era. We've had an incredibly long musical journey since then, where we held Norwegian folk music up against the backdrop of everything from black metal to contemporary music. The album we're presenting now shows the mark of this entire journey, and today we have become a band who boldly transgress any musical boundary to tell the story we want to share. Our aim is to give something positive to the listener.»
«Dansen låter fra graven åter» was produced by the band and recorded between winter 2017 and summer 2019 in our home studio in the Swedish woods, Rönnhögen Lydvær, with drums recorded in Studio Hemstad, Holter. It was mixed in Kalthallen Studios by Markus Skroch and mastered in Endarker Studio Sweden by Magnus «Devo» Andersson, with artwork by Even Mehl Amundsen and photos by Marcus Eriksson.
Tracklist
Bruremarsj
Hva er en konge?
Kjenningsvisa
Det grå riket
Vertshuset Dovregubben
Trolljuvshallingen
Tilbake til intet
Kalde netter
Release party and concert October 19th
Eager to experience us live? You will get the chance in Oslo on October 19th, when we take the stage at Rock In, Grønland, Oslo's oldest remaining rock- and metal bar!
Pre-order the album here:https://elvarhoi.bandcamp.com/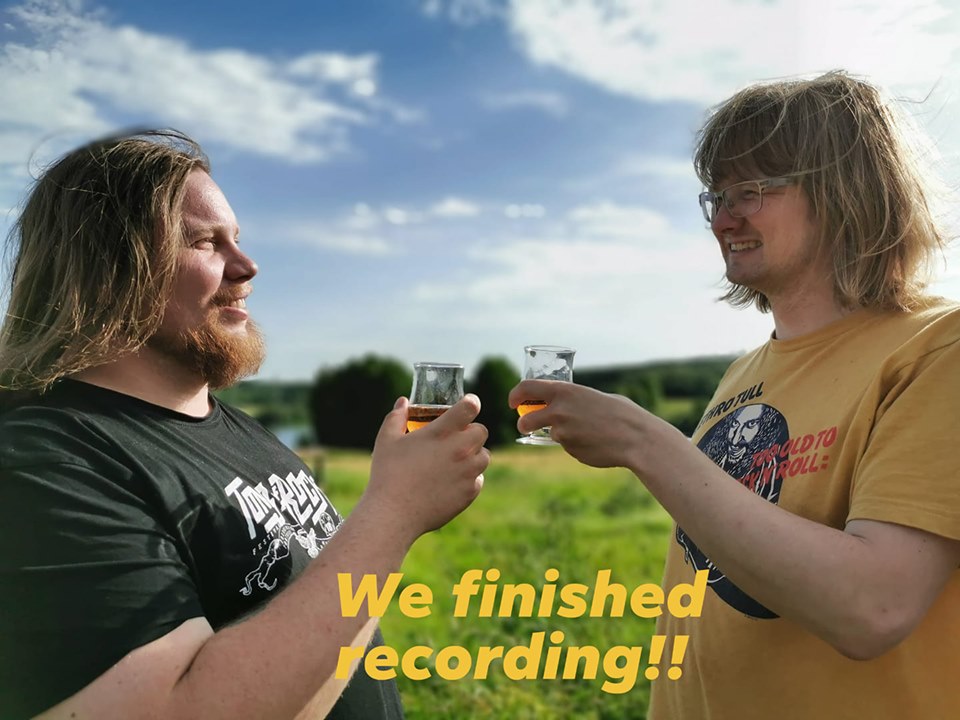 13 years!!! We finally did it! We've been chipping along at this stuff for so long we thought it would never happen. Neither did you, we think! But to our own surprise, today we finished recording everything for our full length album. Eight glorious tracks! And better yet, mixing has already begun in esteemed Kalthallen Studios! What's more the cover art is done too! 😃
It pains us to say it but you have to wait a little bit more to hear anything. We need to figure out the layout and distribution for this stuff, but the thing to take away from this post is... THIS ALBUM IS ACTUALLY HAPPENING!
Hei! We're happy to share that a new song, Tolv Mand I Skove has been released digitally, and is available on Bandcamp, Spotify, iTunes and other digital platforms for your enjoyment.
Tolv Mand I Skove is a thematic continuation from our previous single:Langt fra len og leite.
The title is from an old medieval ballad called Tirelill Tove and means "Twelve Men in the Woods",about a band of robbers that raid the local farms and steal away the livestock and the farmers daughter to their hideout in an old hill fort.
Our song assumes that stories like this are post-pagan fairytales where any fellowships outside of society become scary troll-like figures to be feared and prosecuted.
So if you like heroic woodland robbers battling evil wizards, this is for you!
The day has come!
We're excited to finally be able to share with you the new track. And when we say finally, it's because this track has been with us for a really long time. A special thanks has to go to our old drummer, and founding member, Ivar. He left the band to become a real life Knight, which we totally forgive him, and it was he who wrote the melody and laid the groundworks for this song about a decade ago.
The track should now be available on Spotify and iTunes, and we'll put it other places in the coming days. We'll also be posting a lyric video soon. In addition, we have a little treat planned in the form of a printed booklet, so more on that later!
The wait is over! Here you have the new track "Trolljuvshallingen"!
It is an instrumental dance tune inspired by cold nights and fiery drinks, and we can't wait to play it live for you all!
Thanks to Jorun Grøgård for sweet hardanger fiddle playing, and Tellef Kvifte for helping us out with the mastering!
The date for the release of this release is closing and I now want to say a couple of words about this record.
I first want to mention that "Fjellet Faller Aldri",or "The Mountain Shall Never Fall"as it can be translated into, does not have any intentional overarching theme. It is a collection of seven songs written under different circumstances with the focus on that perticular song and only that, without any consideration for the other songs. As a result, this is an album you don't have to listen to from start to end. You can easily pick out the songs you like best and hear them on their own without loosing anything. The record comes with a 20 page booklet filled with beautiful illustrations by the talented artist Sara Bruun, specially drawn for Elvarhøi. We know an elaborate booklet like this is weird for a demo-release, but we don't give a fuck. I like puzzling with this shit and a good booklet is good.
"Eg rodde meg ut.."(I rowed out..) was Gustav's idea for a fun live tune. We started playing it straight and then later tried to "fill it out",but we concluded it's better the way it is. It's a traditional folk song played in a traditional non-folk way. Great stuff.
"Drikkevise"(Drinking Song) was written by Ivar right before, during and right after aLEP 2005. It's a joyous and melancolic tale of an old farmer's last trip to the pub after loosing his wife.
"Trú"(faith/faithful) was written by Ivar as a national-romantic-as-can-be tune. It's pompous and celebrates norwegian nature and folk without critique (or does it?). With big choirs and images of mountains and fjords and the landscapes thought by many to be typically norwegian. It's catchy and cheesy and even has a fucking guitar-solo.
"Skogens Vandrar"(The Forest Wanderer) is yet another song written by Ivar. This is the calmest song on the record. It's built around one theme played five times with different variations. The main character is a Snufkin-like nature sprite, bound to no place and travelling around at will. He's helpful and goodwilling, but will not be bound by that. After being in one place for too long and getting to know the people there he may suddenly disappear, never to come back.
"Daudeskaar"(The Paths of the Dead) is a chilly song with music by Ivar and lyrics by me. We follow, poorly, the verse form of Fornyrdislag, and sprinkle the music with some "black metal"elements like shrieking and some rock'n'rollish tremolo picking. The story follows a couple heading north to the fictive realm "Land of the Brotherhood",We'll hear more about this land in an eponymous song that couldn't be on this record since it's being heavily rewritten. On their way they must pass through a haunted mountain pass.
"Venelite"is the second trad. song on the album. As opposed to "Eg rodde meg ut..",this has recieved a great deal more work. This song features guest vocals by our former trad. singer Mari, giving a nice break from the otherwise completely male vocals dominating the album.
"Lykkejegaren"(or "The Fossicker") is a sort of bonus-track, for Venelite is a perfect ending track, but one day during recording, Gustav and I decided to record this. The lyrics were written in the earliest phase of the band, and shelved, until Gustav found them and wrote som music for it during last year's Harry Potter ticket queue. The lyrics are partly based off "The Argonaut of White Agony Creek".
I hope this record contains something for everybody and that most people will find at least one song to their liking. I like all of them, but I also like a lot of shitty music. In the next couple of days we'll release a short mix with a short sample from each of the songs and the record itself should be ready later this month or the next.